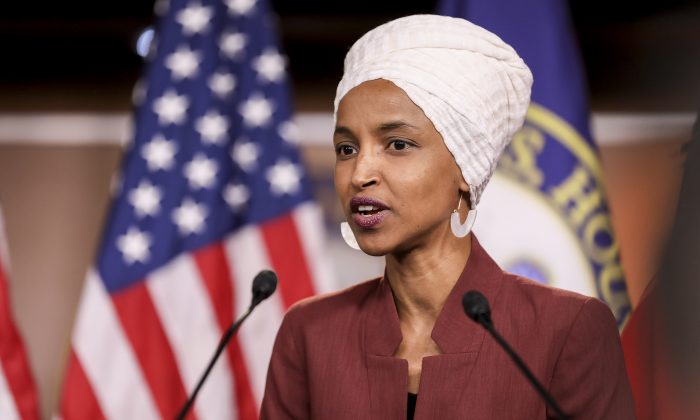 Trevor Loudon  |  The Epoch Times*  | September 30, 2019, Updated: October 1, 2019
Commentary
Controversial Rep. Ilhan Omar (D-Minn.) is about to associate herself with one of the most subversive organizations in this country.
On Oct. 3, Omar will present the annual Letelier-Moffitt Awards at the Washington-based Institute for Policy Studies (IPS). The IPS is a center of both far-left policy formation and support for the Palestinian socialist cause. The Letelier-Moffitt Award is named after the late Orlando Letelier, a paid Cuban intelligence agent.
With Omar's strong ties to radical groups such as the Democratic Socialists of America (DSA) and the Palestinian socialist cause, she is a perfect fit for the IPS—whose columnists have been defending her regular outrageous statements since her election to Congress.
An IPS press release states:
"We're excited to announce that Representative Ilhan Omar of Minnesota's 5th District will present this year's Letelier-Moffitt Awards!

"Rep. Omar has made herself a key figure in the progressive movement by working with a diverse group of legislators on the best ideas in politics today; bold, transformative policies like student loan forgiveness, Medicare for All, and a Green New Deal.

"We're thrilled to work with her and delighted to welcome her into our community."
Omar's IPS connection should raise all sorts of alarm bells.
For many years, the IPS was the largest and most influential of the far-left think tanks in Washington. From its founding in 1963, it steadily pushed a pro-Soviet line on foreign policy, defense, and the economy.
In a 1978 article in National Review, Brian Crozier, then director of the London-based Institute for the Study of Conflict, described the IPS as the "perfect intellectual front for Soviet activities which would be resisted if they were to originate openly from the KGB."
The Letelier-Moffitt Award has its roots in Chile's bloody anti-communist counter-revolution of the early 1970s.
Assassination
In 1973, at the request of the Chilean parliament, Chile's generals stepped in to remove pro-Castro socialist President Salvador Allende from office for alleged gross breaches of the country's constitution. Allende committed suicide in the presidential palace rather than surrender to the military. For several years afterward, the military brutally cracked down on Chilean socialists, communists, and terrorists. Thousands were imprisoned, many were executed, and some simply "disappeared."
One of the victims of the anti-communist purge was Allende's former ambassador to the United States, Orlando Letelier. After a period of imprisonment, Letelier was allowed to leave Chile, settling first in Venezuela, then in Washington at the suggestion of IPS staffer Saul Landau, a personal friend of Cuban communist dictator Fidel Castro.
In 1975, Letelier became a senior fellow of the IPS, where he soon became a leader of the leftist resistance to anti-communist Chilean President Augusto Pinochet. On Sept. 10, 1976, Pinochet officially deprived Letelier of his Chilean citizenship.
Undeterred, Letelier carried on his efforts to bring down the Pinochet government. He was reportedly responsible for the cancellation of several major European loans to Chile, which made him a major enemy of the government. He was described by one of his colleagues as being "the most respected and effective spokesman in the international campaign to condemn and isolate" Chile's anti-communist government.
On Sept. 21, 1976, Letelier was traveling to work with an IPS colleague Ronni Moffitt and her husband. As they were driving down Washington's Embassy Row at 9.35 a.m. a bomb exploded in their car. Within an hour, Moffitt and Letelier were pronounced dead. Moffitt's husband survived.
It was later revealed that the bomb had been planted in the direction of Chile's intelligence service, the DINA.
During the investigation into the assassination, the FBI leaked documents to The Washington Times columnist Jack Anderson, and others, which indicated that Letelier had been an Eastern Bloc intelligence operative. Letelier had also apparently been coordinating his activities with the Chilean government-in-exile, then based in communist East Berlin.
Letelier was reportedly working closely with Allende's daughter, Beatriz Allende, who was married to a senior Cuban intelligence officer. While working for the IPS, Letelier was being paid $1,000 a month (no small sum in 1976) from Cuba's communist regime.
So in giving out the Letelier-Moffitt Award, Omar is, in effect, honoring the memory of a paid Cuban agent-of-influence.
Marxist Ties
Today's IPS maintains strong ties to the DSA and other domestic Marxist groups. The IPS has several DSA comrades on staff, including Ashik Siddique, a research analyst with IPS's National Priorities Project, and John Feffer, co-director of IPS webzine Foreign Policy in Focus. The Metro DC DSA steering committee even holds its meetings in an IPS office.
Like Omar, the IPS is uncompromisingly pro-Palestine and anti-Israel.
Khury Petersen-Smith is the Michael Ratner Middle East Fellow at the IPS. He researches "U.S. empire, borders, and migration."
Until earlier this year, Petersen-Smith was a leading member of the now-disbanded International Socialist Organization. According to the Socialism 2016 conference website: "He has written about Black and Palestinian liberation and US empire for Socialist Worker and the International Socialist Review. He co-authored the 'Black Statement of Solidarity with Palestine' in 2015, which was signed by over 1,100 mainly communist Black activists, artists, and scholars."
In April, Petersen-Smith, with his IPS colleague Noura Erakat. held an event with the Tufts University chapter of the far-left Students for Justice in Palestine, titled "Black Solidarity With Palestine."
Veteran IPS staffer Phyllis Bennis runs the IPS's New Internationalism Project. In 2001, she helped found the U.S. Campaign for Palestinian Rights. She advises several leading U.N. officials on Palestine and was twice in contention to be appointed the U.N. special rapporteur on the occupied Palestinian territory.
Bennis was also a leading member of Line of March, a Marxist-Leninist group that supported first communist China and then the Soviet Union.
The IPS still maintains strong ties to Cuba and played a role in President Barack Obama's disastrous directive to ease sanctions on Havana, which probably saved the communist dictatorship from imminent collapse.
In July 2015, as the communist flag was raised over the newly reestablished Cuban Embassy on 16th Street NW in Washington, Bennis and her IPS and ex-Line of March comrade James Early "joined in the delirious shouts of 'Viva Cuba!'," according to The Washington Post.
"It's an amazing moment," Bennis told The Washington Post. "In the decades-long effort to normalize relations with Cuba, to stop the US attacks and hostility toward Cuba, we have not had so many victories. Suddenly we have a victory. The flag going up—that's huge."
"For those of us who were committed to the values and the aspirations of the Cuban revolution," said Early, raising that flag again "is a recognition of Cuba's right to sovereignty and self-determination."
Right from the start, the IPS built networks of contacts among congressional legislators and their staff, academics, government officials, and the national media. The IPS's main aim has always been to influence U.S. government policy in favor of the world socialist movement.
It's no surprise to see the IPS welcome Omar into its radical bosom.
Feature Photo: Rep. Ilhan Omar (D-Minn.) speaks at a press conference on the Capitol on July 15, 2019. (Holly Kellum/NTD)
---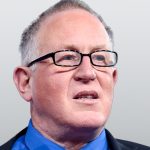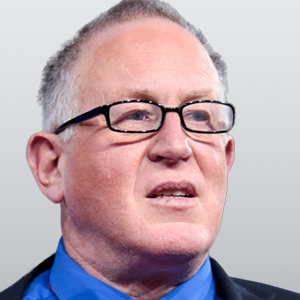 Trevor Loudon is an author, filmmaker, and public speaker from New Zealand. For more than 30 years, he has researched radical left, Marxist, and terrorist movements and their covert influence on mainstream politics.
Trevor presents his acclaimed movie, "ENEMIES WITHIN" DVD—BUY NOW!
*Views expressed in this article are the opinions of the author and do not necessarily reflect the views of The Epoch Times.