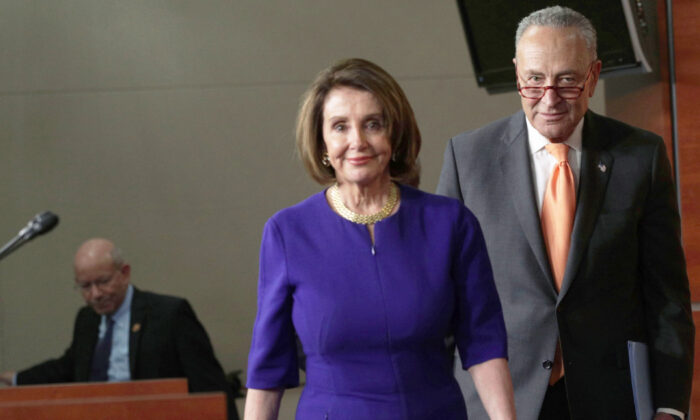 Trevor Loudon  |  The Epoch Times*  | October 16, 2019, Updated: October 22, 2019
Commentary
On Oct. 28, the two most powerful Democratic politicians in the United States, House Speaker Nancy Pelosi (D-Calif.) and Senate Minority Leader Chuck Schumer (D-N.Y.), will headline the annual conference of J Street—a leftist (and, in reality, anti-Israel) lobbying organization.
Schumer's presence at the conference is especially significant because he has been long regarded as a pro-Israel voice in the Senate. He regularly speaks at the annual conference of the pro-Israel lobby American Israel Public Affairs Committee (AIPAC)—the nemesis of J Street.
Traditional bipartisan support for Israel has been waning for some time as the pro-Palestine left wing of the Democratic Party gains more and more influence. This "fraternizing" with J Street by party leaders will likely send a signal to Israel that Democratic support in the U.S. Congress can no longer be relied upon.
While AIPAC has long worked with both Democrats and Republicans, J Street is an almost exclusively Democratic-focused operation. Its affiliated political action committee, JStreetPAC, raised $5 million for more than 100 Democratic candidates in the 2018 midterm elections, according to The Jerusalem Post.
J Street was established in 2007 essentially as a counter to AIPAC. J Street describes itself as "the political home and voice for pro-Israel, pro-peace Americans … who want Israel to be secure, democratic and the national home of the Jewish people … [advocating] for policies that advance shared US and Israeli interests as well as Jewish and democratic values, leading to a two-state solution to the Israeli–Palestinian conflict."
According to Media Director Jessica Rosenblum, cited in Brown University student newspaper The Brown Daily Herald, J Street "aims to 'redefine what it means to be pro-Israel' and marshal American support for a two-state solution."
According to J Street, to be "pro-Israel" today is to support the "two-state solution"—the partitioning of Israel to create a new independent Palestinian nation within current Israeli borders.
The so-called two-state solution would in fact be tantamount to Israeli national suicide. Depending on the proposed borders (a major sticking point), a new Palestinian state would incorporate nearly a third of Israel's territory and would include several major cities including Ramallah, Bethlehem, Nablus, Hebron, and Jenin. It would bring the borders of a potentially hostile foreign power to within a very few miles of Israel's economic center Tel Aviv and within literal yards of the capital city Jerusalem. It would also bring dozens of Israeli towns and settlements within easy rocket or sniper range.
The "two-state solution" would make Israel almost impossible to defend—which is no doubt the reason it is being pushed so hard by the Jewish nation's enemies. It is the strategic equivalent of giving Hawaii, Alaska, California, Oregon, and Washington to China, or ceding the entire Eastern Seaboard up to the city limits of New York and Washington to Russia.
Israel's traditional Middle Eastern enemies, such as the Palestine Liberation Organization (PLO) and the openly Marxist-Leninist Popular Front for the Liberation of Palestine, always owed their main loyalties to the former Soviet Union. Fatah, a faction of the PLO, now rules the Palestinian Authority, a semi-autonomous part of Eastern Israel. Terror group Hamas, which rules the Gaza strip in Southern Israel, is a front for the Muslim Brotherhood, which has deep ties to Soviet-Russian intelligence. Hezbollah, which has often attacked Israel from its bases in neighboring Lebanon, is a front for the Iranian regime, which partially owes its existence to the former Soviet Union and is still closely allied with Moscow.
Therefore, it shouldn't be surprising to learn that J Street is heavily penetrated by the U.S. hard-left, most of which is now militantly opposed to the existence of Israel.
Connections
In 2009, late Minnesota Communist Party leader Erwin Marquit traveled to Washington for the first national conference of J Street. Marquit "attended the conference on 26–28 October and participated in lobbying members of the Congress on 29 October. … The guidelines for the lobby stressed Congressional support of Obama," according to his memoirs. Marquit was also a political ally and financial supporter of hard-left Muslim former Congress member Keith Ellison. J Street endorsed and funded Ellison in his 2016 congressional race.
Members of the J Street advisory board have included:
J Street President Jeremy Ben-Ami also has a radical bent. Ben-Ami was then-President Clinton's deputy domestic policy adviser and later served as policy director for leftist Democrat Howard Dean's presidential campaign. Before becoming president of J Street, he was senior vice president at Fenton Communications, a Washington public relations firm notorious for representing communist movements and governments, including Daniel Ortega's Marxist regime in Nicaragua, Prime Minister Maurice Bishop's Marxist-Leninist regime in Grenada, El Salvador's Marxist-Leninist guerrilla organization the FMLN, and the pro-Soviet MPLA regime in Angola.
In 2009, Ben-Ami served on the board of J Street sister organization Americans for Peace Now alongside several radical leftists, including DSA members Jo-Ann Mort, Stanley Sheinbaum, and Michael Walzer.
J Street is unquestionably an enemy of Israel as it is constituted today. The fact that the two highest-ranking Democrats in Congress are scheduled to address the upcoming J Street conference will likely be noted with some concern in Tel Aviv and Jerusalem.
Feature Photo: U.S. Speaker of the House Rep. Nancy Pelosi (D-CA) and Senate Minority Leader Sen. Chuck Schumer (D-NY) arrive at a news briefing after they returned to the Capitol from a White House meeting with President Donald Trump May 22, 2019 in Washington, DC. (Alex Wong/Getty Images)
---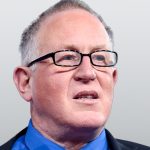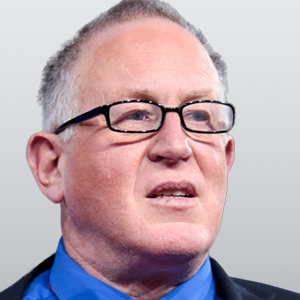 Trevor Loudon is an author, filmmaker, and public speaker from New Zealand. For more than 30 years, he has researched radical left, Marxist, and terrorist movements and their covert influence on mainstream politics.
Trevor presents his acclaimed movie, "ENEMIES WITHIN" DVD—BUY NOW!
*Views expressed in this article are the opinions of the author and do not necessarily reflect the views of The Epoch Times.