The Investigative Project On Terrorism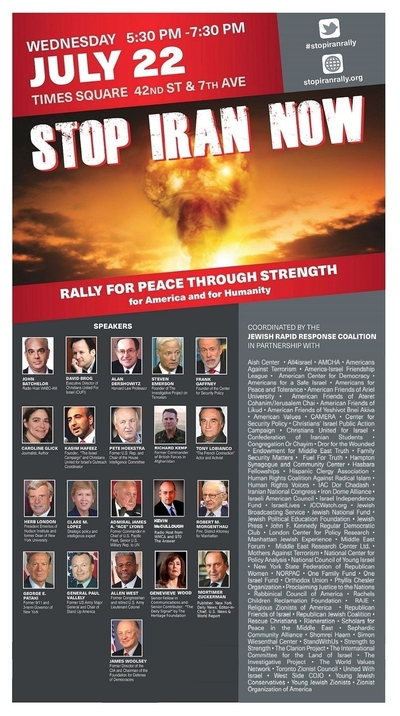 Thousands of Americans Rally to Demand Congress Vote Down Iran Nuke Deal
July 22, 2015 – New York City – The "STOP IRAN RALLY," the largest, grassroots bipartisan American protest against the deal granting Iran a fast track to a nuclear bomb, will be held in Times Square on Wednesday, July 22, from 5:30 to 7:30 p.m. Thousands of Americans from all faith traditions, political interests and communities, including Christians, Muslims, Jews, registered Democrats and Republicans, LGBT, Iranian-Americans, and others will demand that Congress vote down the Iran deal.
Under the umbrella of the STOP IRAN RALLY COALITION, more than 100 organizations spanning the nation's political, religious and social spectrum will participate. A roster of preeminent experts from senior levels of the military, government, academic, and media establishments will speak at the rally.
"Strip away the administration's rhetoric and it's clear this deal gives the Mullahs – the world's foremost sponsors of terrorism, $150 billion in return for effectively nothing: no dismantlement of Iran's nuclear program; no anytime or anywhere inspections; no eradication of Iran's ballistic missile program; no maintenance of the arms embargo; and no halt to Iran's sponsorship of terror," said Jeffrey Wiesenfeld, STOP IRAN RALLY's co-organizer.
Wiesenfeld added, "Washington is prepared to give Iran virtually all that it needs to get to the bomb. To release $150 billion to Iran will result in the expansion of worldwide terror. New York Senator Charles Schumer has the votes as presumptive leader to override this deal if he wants. To do anything less is cynical and disgraceful, and the public will not be fooled this time. Americans will not stand for another North Korea. If this deal is not stopped, New York voters will know whom to blame."
"The Administration uses scare tactics in falsely claiming that the alternative to this deal is war," said Steve Emerson, Executive Director of The Investigative Project on Terrorism and a speaker at the STOP IRAN RALLY. "This deal would actually lead to more war, many more deaths of Americans and our allies and much more international terrorism."
"This is a bipartisan issue, not a political one," said Richard Allen, a local activist leading the STOP IRAN RALLY volunteers. "Now, Congress must rise to the occasion and expose evisceration of U.S. national security and pass a resolution of disapproval. Congress must also override President Obama's threatened veto, and return America's Iran policy to dealing from a position of strength rather than appeasement. We are mobilizing nationwide to let our lawmakers know we will hold each and every one of them to account for the consequences of this dangerous deal being foisted on the American people."
SPEAKERS AT THE "STOP IRAN" RALLY WILL INCLUDE:
James Woolsey, Former Director of the CIA and Chairman of the Foundation for Defense of Democracies
Gov. George Pataki, Former Three-Term Governor of New York
Robert Morgenthau, Manhattan District Attorney from 1975 to 2009, and Of Counsel, Wachtell, Lipton, Rosen & Katz
Allen West, Former Congressman and retired U.S. Army Lieutenant Colonel
Prof. Alan Dershowitz, Attorney and Professor at the Harvard School of Law
Pete Hoekstra, Former U.S. Congressman and Chair of the House Intelligence Committee
U.S. Navy Admiral James A. "Ace" Lyons, Former Commander in Chief of the U.S. Pacific Fleet and Senior U.S. Military Representative to the United Nations
General Paul E. Vallely, Former U.S. Army Major General and Chairman of Stand Up America
Mortimer Zuckerman, Chairman and Editor-in-Chief of U.S. News & World Report and the publisher of the New York Daily News and former Chairman of the Conference of Presidents of Major American Jewish Organizations
John Batchelor, Radio Talk Host, WABC-AM
Steven Emerson, Executive Director of The Investigative Project on Terrorism
David Brog, Executive Director, Christians United for Israel
Frank Gaffney, Founder of the Center for Security Policy
Caroline Glick, Deputy Managing Editor of The Jerusalem Post
Kasim Hafeez, Founder of "The Israel Campaign" and Christians United for Israel's Outreach Coordinator
Tony LoBianco, Actor and Activist
Clare M. Lopez, Former CIA officer, Terrorism and Iran Expert at Center for Security Policy
Herbert I. London, President Emeritus of Hudson Institute and former Dean of New York University
Genevieve Wood, Senior Fellow, The Heritage Foundation
SUPPORTING QUOTES:
"Whatever happened to the President's claim that 'No (Iran) deal is better than a bad deal?' Well, this is a bad deal. Now is the time for the American Congress to stand up and protect the security of the American people and our future generations. This is a pivotal moment in American history. Will our leaders rise above politics and demonstrate the courage to do what is right for our country?" – Jeffrey Wiesenfeld, co-organizer of the STOP IRAN RALLY
"The President publicly asserts that the U. S. 'will maintain our own sanctions related to Iran's support for terrorism, its ballistic missile program, and its human rights violations.' In reality, this deal removes the most severe terrorist sanctions in place against Iran for years; it removes the embargo on weapons sales to Iran against the explicit warnings of our own Secretary of Defense and head of the Joint Chiefs of Staff; it allows for Iran to continue developing its intercontinental ballistic missile program that can only have one mission – attaching nuclear warheads; it provides Iran with billions of unfrozen assets that Iran will surely pour into worldwide terrorism as it has done for 30 years; and it shamefully decouples any linkage to Iran's continuing imprisonment of an American Marine and four other American civilians not to mention its brutal suppression and execution of its own dissidents.
This deal would enable Iran to spend tens of billions of new dollars on its vast state supported terrorist apparatus: from its Iranian Revolutionary Guards who have been responsible for killing hundreds of Americans to supplying their Hezbollah terrorist proxies with vast amounts of sophisticated weapons to threaten American interest and allies throughout the Middle East, Persian Gulf and Latin America." – Steve Emerson, Executive Director, Investigative Project on Terrorism, Speaker at Stop Iran Rally
"This is a good deal for Iran. Not the American people. This deal abandons every red line the administration said was essential for any acceptable deal to block all pathways to an Iranian bomb. If Iran, the world's leading state sponsor of terrorism, wants to be treated with 'respect,' let them earn it by agreeing to robust spot inspections, ending their missile programs and proving to us that they mean no harm." – Richard Allen, Co-organizer, STOP IRAN RALLY
ABOUT STOP IRAN RALLY ORGANIZERS:
The STOP IRAN RALLY is coordinated by the STOP IRAN RALLY COALITION, a grassroots movement of volunteer citizens, in partnership with more than 100 organizations spanning the entire political, religious and social spectrum. More information can be found at www.stopiranrally.org. Follow updates about the rally on Twitter @stopiranrally and #stopiranrally.
LOCATION AND TIME:
Wednesday, July 22, 2015 from 5:30 to 7:30 p.m.
Times Square, at 42nd Street and Seventh Avenue
MEDIA INQUIRIES AND INTERVIEWS CONTACT:
Eve Epstein, 516-343-0543
516-343-0543; [email protected]
Sakura Amend, 917-355-3531
917-355-3531; [email protected]