By: Denise Simon
FoundersCode.com
VIENNA—Tensions in the nuclear talks between Iran and six powers have boiled over in recent days, producing heated exchanges among foreign ministers as Washington and Tehran struggled to overcome remaining hurdles to a final agreement, according to people involved in the talks.
The German and British foreign ministers returned to the Austrian capital Wednesday evening as Western diplomats insisted a deal was still possible in coming days. However, time was running out for the agreement to be sealed before a deadline this week which would give the U.S. Congress an extra month to review a deadline.
People close to the talks have warned that the longer Congress and opponents of the diplomacy get to pick over an agreement and galvanize opposition, the greater the political risks for supporters of the process, which aims to block Iran's path to nuclear weapons in exchange for lifting tight international sanctions.
U.S. officials have insisted this week they don't feel under pressure to get a deal by the congressional deadline, which arrives at midnight Thursday (6 a.m. Friday in Vienna.)
Over the past day, Western officials and Iranian media have outlined tense exchanges between the negotiating teams that took place Monday evening, at a point where the talks appeared close to stalling. At the time, negotiators were working toward a Tuesday deadline for a deal.
Today, Barack Obama had a teleconference with John Kerry on the progress of the Iran nuclear weapons talks and even provided guidance as noted below. Israel has been kept completely in the dark on the talks.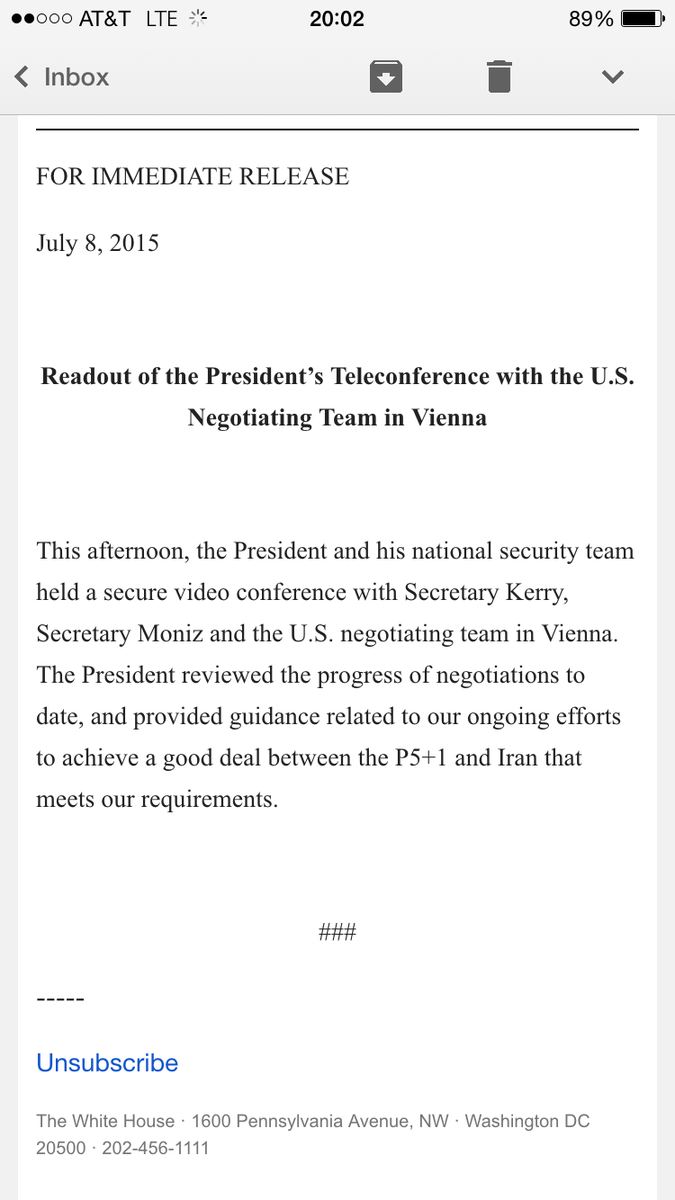 Later today, the U.S. Air Force Secretary had this to say:
Russia is the biggest threat to US national security and America must boost its military presence throughout Europe even as NATO allies face budget challenges and scale back spending, US Air Force Secretary Deborah James said on Wednesday.
"I do consider Russia to be the biggest threat," James told Reuters in an interview after a series of visits and meetings with US allies across Europe, including Poland.
James said Washington was responding to Russia's recent "worrisome" actions by boosting its presence across Europe, and would continue rotational assignments of F-16 fighter squadrons. Deeper details are here.
There is an oil and real estate coupd'etat.
China is conducting Arctic research in an area considered the extended undersea shelf of the United States, while Russia is able to move across the frozen regions in 27 icebreakers.
Meanwhile, Adm. Paul F. Zukunft, commandant of the U.S. Coast Guard, said the United States is practically a bystander in the region.
"We sit here on the sidelines as the only nation that has not ratified the Law of the Sea Convention," Zukunft told a gathering Tuesday at the Navy League's annual Sea Air Space exposition and conference at National Harbor, Maryland. "Our nation has two ocean-going icebreakers … We're the most prosperous nation on Earth. Our GDP is eight times that of Russia. Russia has 27 ocean-going icebreakers."
The U.S. has only two, he said, practically conceding the Arctic to foreign nations, Zukunft said.
"What happened when Sputnik went up? Did we say 'good for you but we're not playing in that game?'" he asked. "Well, we're not playing in this game at all."
Beneath the Arctic is about 13 percent of the world's oil and nearly 30 percent of its natural gas. And on the seabed is about a trillion dollars' worth of minerals, Zukunft said. Coast Guard mapping indicates that an area about twice the size of California would be considered America's extended continental under the U.N. sea convention not signed by the U.S.
Meanwhile, it is getting real in Nevada….
Air force drops nuclear bomb in Nevada in first controversial test to update cold war arsenal
'This test marks a major milestone for the B61-12 Life Extension Program, demonstrating end-to-end system performance under representative delivery conditions,' said NNSA Deputy Administrator for Defense Programs Dr. Don Cook.
'Achieving the first complete B61-12 flight test provides clear evidence of the nation's continued commitment to maintain the B61 and provides assurance to our allies.'
The B61, known before 1968 as the TX-61, was designed in 1963 by the Los Alamos National Laboratory in New Mexico.
The B61-12 LEP entered Development Engineering in February 2012 after approval from the Nuclear Weapons Council, a joint Department of Defense and Department of Energy/NNSA organization established to facilitate cooperation and coordination between the two departments as they fulfill their complementary agency responsibilities for U.S. nuclear weapons stockpile management. More details here.