By Trevor Loudon  |  The Epoch Times   |  Sep 9, 2018
Commentary
In a move that could have major implications for American politics, the leading socialist and communist organizations in the United States have formally allied to increase their infiltration and manipulation of the Democratic Party.
Communist Party USA (CPUSA) leader John Bachtell partially explained the new strategy in a pitch to Party members to attend an online webinar that was held on May 23, 2018. According to Bachtell, the webinar would feature a panel of representatives from the CPUSA, Democratic Socialists of America (DSA), Freedom Road Socialist Organization (FRSO), LeftRoots, and others.
The event was sponsored by a group called the Left Inside/Outside Project, which is the idea of "building power inside and outside the Democratic Party." The organization began shortly after the 2016 election as a response to the presidency of Donald Trump. Bachtell claimed that CPUSA "is collaborating with several left groups and progressive activists to promote unity and coalition building in the electoral arena."
The plan is to encourage all elements of the left to vote, which would result in "defeating the extreme right domination of government and the courts." This "strategic imperative," according to Bachtell, is why "building electoral coalitions with every force possible including with the Democratic Party is key."
Inside/Outside
The Left Inside/Outside Project first announced itself in a letter, titled "The Left We Want to Build: Breaking Out of the Margins," published on the FRSO-aligned website, Organizing Upgrade, on June 9, 2017.
The letter laid out a bold plan by America's leading communist groups to massively expand their collective influence both inside and outside the Democratic Party. In the wake of "the ascent of authoritarian white nationalism to the White House and the GOP's headlock on 25 state governments and Congress," the letter called for "building a left trend—an alignment of organizations and individuals—based on strategic unity."
The letter laid out a bold plan by America's leading communist groups to massively expand their collective influence both inside and outside the Democratic Party. In the wake of "the ascent of authoritarian white nationalism to the White House and the GOP's headlock on 25 state governments and Congress," the letter called for "building a left trend—an alignment of organizations and individuals—based on strategic unity."
Further: "We believe that … only determined, long-term, energetic efforts to break out of the margins based on a common view of how to engage in our electoral system, while also building mass protest, offer a chance to make the left a force in U.S. politics and, eventually, a contender for power."
The letter went on to propose better coordination among America's largest Marxist organizations, to increase infiltration of the Democratic Party, and to further pressure it from without, through mass protest action:
"The fight against the far right is strongest when it is energized by an inspiring vision for economic and social justice. Campaigns for openly socialist candidates and progressive challenges to neoliberal Democrats must all be part of the political mix. And the opportunities for broadening the reach of progressive and left forces will be greatest when they both struggle within and work in tandem with the larger anti-Trump or anti-right front."
The letter described this proposed communist–socialist alliance as a "left trend."
"All of the organizations and networks we belong to have important strengths, but also very real limitations in terms of size, demographics, or geographic or sectoral concentration. None of them, in their current form, are capable of playing the strategic role we believe the left must play in the next period. A left trend might have that potential—the ability to reach far beyond the existing left to create a force that can move us from defense to offense."
The letter was signed "In unity and struggle" by key leaders of America's most powerful Marxist organizations, CPUSA, FRSO, DSA, and the Committees of Correspondence for Democracy and Socialism (CCDS).
Potential Disaster
Broadly speaking, there are two lefts in America. One side is the anti-Democratic Party left—which consists of the Revolutionary Communist Party, Socialist Alternative, Socialist Party USA, Party for Socialism and Liberation, Party of Communists USA, and so on. On the other side are the groups willing to work inside the Democratic Party—that is, those organizations signing on to the strategy outlined above.
These organizations are not to be underestimated. Separately, all these groups are dangerous. Together, they spell potential disaster.
For example, CPUSA claims about 5,000 members, but its support base is much wider. Many Communist Party USA leaders are also Democrats. Examples include Houston Communist Party Chairman Bernard Sampson (local Democratic Party precinct chairman) and Ohio Communist Party Chairman Rick Nagin, who serves on the Cuyahoga County Democratic Executive Committee.
The CPUSA is strong in organized labor, in black churches, and in the "peace movement." CPUSA strongholds include New York City, Boston, Chicago, Detroit, St. Louis, Arizona, California, and Texas. The CPUSA is aligned with China, Vietnam, Cuba, Venezuela, and the communist parties of Russia, Britain, Canada, Mexico, Iraq, and Iran.
CCDS is only a few hundred strong. It often shares members with DSA, FRSO, and CPUSA. Its strongholds include Boston, New York City, Chicago, Louisville, Kentucky, and the Bay Area. CCDS has close ties to China, Vietnam, and Cuba.
FRSO is extremely secretive about membership numbers. Fewer than 100 cadres are publicly acknowledged. My estimate is around 2,000 members, but that is purely an educated guess. Dozens of front organizations of FRSO are extremely well funded through the Ford Foundation and other large leftist nonprofits.
FRSO is strongest in the following areas: Boston, New York/New Jersey, Philadelphia, District of Columbia, North Carolina, Tennessee, Georgia, southern Florida, Los Angeles, and the Bay Area. FRSO also has smaller bases in Texas, New Mexico, Missouri, Vermont, Ohio, Oregon, and Washington state. FRSO supports Cuba and Vietnam. Some elements also support China and North Korea. The organization focuses heavily on racial politics and is the main force behind Black Lives Matter.
FRSO-aligned activists currently holding public office include Philadelphia City Councilor Helen Gym, Memphis Tennessee County Commissioner Tami Sawyer, and Jackson, Mississippi, Mayor Chokwe Antar Lumumba.
LeftRoots "is a national organization of 250 front-line organizers and activists, committed to politically developing their members to lead social movements across the U.S." It is essentially a project of FRSO.
DSA is the giant of the bunch. On the back of the Bernie Sanders movement, DSA has grown from 6,000 to upwards of 50,000 dues-paying members in less than two years. The organization has locals in every state but South Dakota. The larger local groups include Seattle (600 members), Portland, Oregon (350 members), East Bay (850 members), Los Angeles (1,200 members), Chicago (1,100 members), Boston (1,000 members), New York (more than 3,000 members), District of Columbia (1,200 members), Baltimore (450 members), Atlanta (500 members), and Austin, Texas (more than 700 members).
Thousands of DSA comrades are active in the Democratic Party and have taken hold of local Democratic County committees from Maine to Nebraska. In Iowa, DSA controls about 20 percent of the delegates to the Democratic state convention. DSA has run hundreds of members and supporters across the country on the Democratic ticket this election cycle. They include DSA members Kaniela Ing (Hawaii, Congressional District 1), Rashida Tlaib (Michigan, Congressional District 13), Alexandria Ocasio-Cortez (New York, Congressional District 14), Zak Ringelstein (Maine, U.S. Senate seat), and Connie Johnson (Oklahoma, governor).
The Democratic Socialists of America is in many ways further left than the Communist Party. In 2017, DSA voted to leave the Socialist International because it was too moderate.
Democratic Socialists of America also controls Our Revolution, the reportedly 100,000-strong nationwide organization set up to support candidates sympathetic to the Bernie Sanders movement.
Working Together
David Duhalde, former deputy director of Democratic Socialists of America and now "senior electoral manager" at the activist website Truthout, said in an interview published by the website:
"I have been rather pleasantly surprised about how well the different post-Bernie formations have been doing and working together to keep this political revolution going. I want to give one great example, which is Our Revolution, [which] either locally or nationally endorsed all of our candidates that we endorsed nationally, as well. Not to mention tons of local races.
"We have a very good working relationship with Our Revolution. We often share information and talk about candidates. We, also, have this affiliation program where DSA chapters can be the local Our Revolution chapter, as well. That is to avoid unnecessary conflicts, duplication of efforts. So, our Knoxville chapter which helped elect two DSA members is, also, the Our Revolution chapter."
According to Bachtell, the CPUSA also has a presence in Our Revolution, as well as other "grassroots" progressive organizations:
"[CPUSA] members were involved with Bernie Sanders campaign and are continuing their activism in Our Revolution, Swing Left, Indivisible, Working Families Party, statewide groups like the New Virginia Majority and local Democratic Party groups and 2018 electoral campaigns."
The hard left has infiltrated the Democratic Party in virtually every state, from the largest cities to remote rural areas, from New York City and Los Angeles to North Dakota and Central Oregon. In rural areas in Republican-dominated states, the Democratic Party is often a shell, nothing more than a ballot line. It is easily conquered by disciplined socialist activists. In the big cities DSA and their friends can overwhelm local Democratic party branches by sheer weight of numbers.
The shock primary victory of 29-year-old socialist Alexandria Ocasio-Cortez over high-ranking Queens Congressman Joe Crowley is but one of many examples.
Our Revolution and the communists and socialists of the Left Inside/Outside Project are rapidly taking over the Democratic Party.
All in all, the Democratic Party-aligned U.S. left can boast about 57,000 cadres. Support organizations and affiliated unions, churches, civic groups, and non-profits would add several hundred thousand more to that total. If well organized, these numbers are more than enough to solidly take over the Democratic Party.
The party of FDR, Harry Truman, and LBJ is rapidly becoming the party of Marx, Lenin, and Mao. Voters need to be acutely aware of their choices when they go to the polls in 2018, 2020, and beyond.
---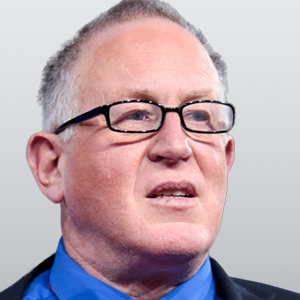 Trevor Loudon is an author, filmmaker and public speaker from New Zealand. For more than 30 years, he has researched radical left, Marxist and terrorist movements and their covert influence on mainstream politics.
Trevor presents his movie, "ENEMIES WITHIN" DVD—BUY NOW!