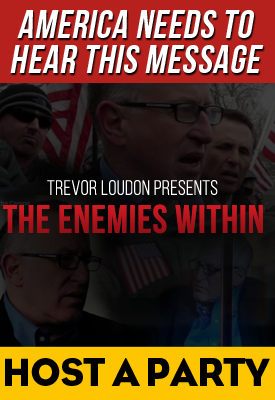 Learn about hosting a "Enemies Within Movie" Party
What's Included
10– DVDs to Share with your party
1– The Enemies Within Book
3– Enemies Within T-Shirts
10– Commie Hunter Bumper Sticker
1– UnFair: Exposing the IRS DVD
Retail $239.99 
SPECIAL PARTY PRICE $174.99
Why Host a Party?
You not only get a discount on products, you get to help Trevor spread the message that ALL of AMERICA needs to hear!
EDUCATE:  We must educate fellow citizens of the enemies within our government.  You can make a difference by informing your friends and family.
MOTIVATE:  This election is the most important election in our great country's history.  What happens in the four years will dictate our country's future, both morally and financially.  You can make a difference just showing this film!
FUN:  This is a great way to get friends and family together, while educating them and having some fun.  Everyone deserves to have some FUN!
Group Screening with Trevor Loudon
If you would like to do a larger group screening of "Enemies Within Movie" or have Trevor speak to your group, please fill out the form below and we will be in contact with you!